Di Antara Tempat Menarik Di Terangganu
---
Interesting Places:
Our Beautiful Fishing Villages

A very picturesque fishing village, Marang welcomes her visitors with tall swaying coconut trees, cool fresh air, an incredibly beautiful lagoon and a fleet of fishing trawlers. Any visitor to Marang will be easily captivated by its natural beauty and simplistic ambience.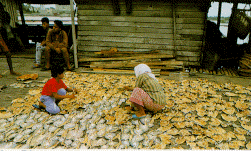 Besides being considered as the centre for handicraft and traditional textiles in Terengganu, Chendering is also the site for a national deep sea fishing project. Located 6 km south of Kuala Terengganu, Chendering has a long jetty which makes it an excellent site for fishing.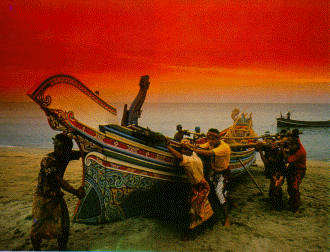 Kijal is a small, quiet and quaint fishing village located north of the Kemaman town. For those who want some peace and solitude, head out for Kijal where you can just laze around while watching fishing fleets returning with the day's catch, fishermen mending their nets or attending to their boats, or just let the cool and invigorating air caress you to a state of tranquility.


To Top
---
---
BEACHES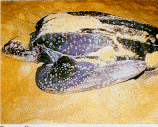 Another place that should be on every visitor's itinerary is Rantau Abang, 60 km south of Kuala Terengganu. There visitors lay in wait quietly from midnight to dawn to watch giant leatherback turtles laying eggs. The turtles lumbering slowly on the white sandy beaches to lay eggs is a memorable sight. These giant turtles, up to 2.5 m in length and sometimes weighing more than 375 kg is indeed a phenomenal sight to behold. Rantau Abang is one of only six places in the world visited by these turtles, from the months of May to September.

Gently sloping sands and fairly shallow, sparkling water give Penarik the ideal ambience and make it the perfect setting for sunbathers and fun seekers who want a quiet, serene vacation spot to while away the hours in uninterrupted bliss.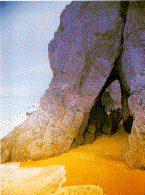 Approximately 140 km north of Kuala Terengganu and a few kilometres from Besut, lies Bukit Keluang. The view in this area is one of the most breathtaking and magnificent in Malaysia. It is also an ideal site for swimming, snorkelling and wind surfing. Its distinctive features are caves which are easily reached by walkways.
Try to conjure up an image of a very peaceful village with beautiful wooden houses, innocent looking children playing games such as hopscotch or marbles, cows grazing in the field, swaying coconut trees, fresh cool breeze and a spectacular curve of white, sandy beach. This description describes Merang to a tee.
---
ISLANDS

Located 50 km off the coast of Kuala Terengganu is one of the most beautiful and exotic islands in Malaysia. Far from the hustle and bustle of a big town or city, Pulau Redang offers crystal clear water, pearly white shores, a colourful array of spectacular marine life, a breathtaking sunset and what could be the world's most mature coral gardens. This paradise-like island is perfect for swimming, snorkelling, scuba diving, jungle trekking, fishing, boating and canoeing. It takes about 2 hours by boat from the village of Merang. However, visitors have to abide by the Fisheries Act 1985 as Pulau Redang is one of the few marine parks in Malaysia. No fishing is allowed within a 3.2 km radius of the island, and the collection of coral and aquatic life is prohibited.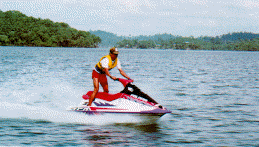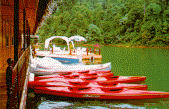 ---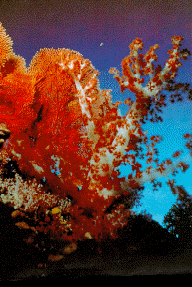 Pulau Perhentian, situated 21 km off the coast of Terengganu, consists of two islands: Pulau Perhentian Besar and Pulau Perhentian Kecil. A trip to this lush and exotic tropical island is a must for all nature lovers and those who enjoy scuba diving, snorkelling, deep sea fishing, swimming, wind surfing, sailing, boating and canoeing. Surrounded by a virgin jungle, swaying palm trees, white sandy beaches, warm sapphire blue waters, and a colourful coral garden, Pulau Perhentian is renowned as one of Malaysia's marine paradise and part of the national marine park. Therefore, the same code applies here, as in Pulau Redang. The journey to this spectacular island takes about one and a half hours by boat from Kuala Besut.

To Top
---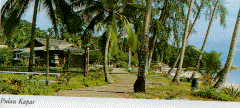 Pulau Kapas is an island renowned for its pure emerald waters, white sandy beaches, swaying palm trees, caves with swallows' nests, dazzling marine life and superb coral formation. Long kept a secret by lovers of the underwater world, this island offers many secluded areas which are unspoiled and quiet. There are many activities which can be undertaken here. Pulau Kapas is a haven for swimming, snorkelling, wind surfing, kayaking, boating or just lazing around. It is only 6 km or a 30 minute boat ride from Marang.

To Top
---
Visitors to the Waterfront of Kuala Terengganu will be in awe of and fascinated by the hustle and bustle of activities taking place there. Stroll down the waterfront and watch fishmongers haggling for the price of fish and other seafood, or take a boat ride to one of the many beautiful surrounding islands. Another appealing alternative is to take a passenger boat to Seberang Takir, where the most incredible view of the South China Sea can be seen.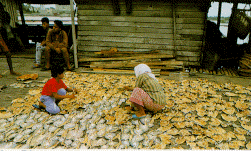 The Terengganu State Museum Complex consists of a Main Museum, a Maritime Museum, a Fisheries Museum, 4 traditional houses and botanic and herbs gardens. The Main Museum is built on 16 stilts, in accordance with the traditional architecture of Terengganu. Its 4 blocks are adjoined, to represent a big family. There are 10 galleries showcasing textiles, crafts, historical, royal, nature, art, petroleum, Islamic, new generation and contemporary arts.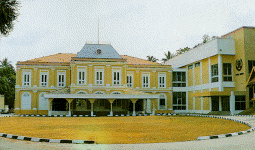 Istana Maziah is believed to have been constructed during the reign of Sultan Zainal Abidin lll. It was built in 1897 to replace the Istana Hijau which was burned down during World War ll. Located next to Bukit Puteri, it is the venue for royal birthdays, weddings, conferment of titles and receptions for local and foreign dignitaries. A product of the blend between splendid modern and traditional architecture, it is also well-known as one of Malaysia's cultural attractions.
The Central Market, or locally known as Pasar Payang which is located by the Terengganu River is one of the most popular tourist spots in Kuala Terengganu. Housed in a modern building complete with a shopping arcade and a car park, it offers visitors a variety of traditional handicrafts such as batik, silk, songket, brocade and brassware, other fresh produce such as fruits, vegetables and 'Keropok Lekor', which is a special local delicacy made from a mixture of fish and sago. Visitors to this market will have a delighfful experience shopping in local fares at resonable prices
Approximately 6 km south of Kuala Terengganu is Sutera Semai Centre at Chendering. It is Malaysia's pioneer silk weaving centre, where visitors can witness different stages of silk manufacturing. There, witness the painting of batik designs onto the fabrics, resulting in beautiful batik shirts, kaftans, scarves, handkerchiefs, etc.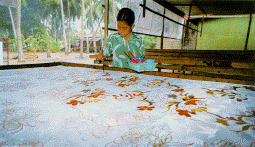 Batik painting is an exquisite and delicate art which requires skill, patience and meticulousness. In batik painting, brightly coloured floral motifs are painted in stages onto dyed cloths. Songket, a piece of dyed silk material weaved with gold and silver threads, is the clothing for royalties, and Malay brides and grooms at their weddings. It is also often worn during specll ceremonies and occasions such as on Hari Raya Aidil Fitri (The celebration which marks the end of Ramadan, the Muslim fasting month). There are many Batik and Songket Centres in and around Kuala Terengganu which produce and sell batik and songket.
A visit to Pengkalan Budaya or the Cultural Centre, a venue for cultural performances, is a must on the itinerary for all visitors to Kuala Terengganu. Ideally located along Pantai Batu Buruk (Batu Buruk Beach), it offers visitors an opportunity to see for themselves, the performance of Silat which is the Malay art of self defence, traditional dances such as Ulek Mayang and Joget and a wide selection of games and pastime. The performances are held every Friday and Saturday, between 5.00 p.m. to 7.00 p.m. and 9.00 p.m. to 11.00 p.m. So, do not miss the opportunity to witness the fascinating diversity of Terengganu's culture.

Bukit Puteri is a 200 m high historical hill, I situated next to Istana Maziah. It was used as a fortress between the years of 1831 to 1876 to defend the state from enemy attacks. Some of the historical remains which can be seen on Bukit Puteri are cannons, a flagpole, a large bell and a fort. Today, as it is the highest point in Kuala Terengganu, visitors standing on top of Bukit Puteri can witness the magnificent view of the areas surrounding it.
Desa Craff, formerly known as Usaha Desa, is an interesting handicraft centre which showcases songket, brassware, batik, souvenir items and also fashion wear of current batik designs.This centre was developed by the Terengganu State Economic Development Corporation (SEDC) as part of its effort to promote Kuala Terengganu as a popular tourist destination .
Pulau Duyung is the most well-known boat building ground in Terengganu. There, you can see boats being made by skilled boat builders who implement skills which have been passed dwn from generation to generation. Boat building is an art form therefore the boat builders take pride in their skill. The boat builders are unique, for they work entirely from their memory and experience, and without any set plans. Pulau Duyung is also renowned for its dried and salted fish, and fish crackers industries. It is easily accessible by the Sultan Mahmud Bridge, or for those who enjoy using sea transportation, take a boat from the Kuala Terengganu waterfront.
Chendering, located approximately 6 km from Kuala Terengganu, is the site of the Malaysian Handicraft Centre. The Centre offers visitors a wide variety of Malaysian handicraft and also an insight into handicraft making. Some of the exquisite items which can be found here are songket, batik, vases, and mats, hats, wallets and bags made from pandanus leaves. Visitors will also get a chance to witness first hand the skills of local artisans in songket weaving, batik painting, basket weaving, etc.
To Top
---


Upstream of Sungai Cacing

Dawn at Kenyir

fish in the cage

The limestone hill

unspoilt surronding

on of the event during the regatta
Covering an area of 369 sq. km. Kenyir Lake is reputed to be one of the largest and most fascinating man made lakes in the world. Keen anglers are amazed by the wide variety of fresh water fish that may be caught in it's clear waters. Nestled in lush tropical jungle about 55km from Kuala Terengganu this destination also offers exciting jungle trekking with a display of magnificient flora & fauna and picturesque waterfalls, rapids and streams. Apart from fishing and trekking, swimming, canoeing and boating are amongst the activities that visitors can enjoy. A range of accommodation is available including houseboats, floating chalets and lakeside resorts.

An hour drive to Kuala Berang and another 15 minutes drive to the lake. It is the country's largest rockfilled hydroelectric dam The dam has created a lake with over 300 islands. Kenyir Lake is formed from the Kenyir Dam. The lake is a perfect place for fishing enthusiasts. There are some 40 species of local fish can be found in the lake

Kenyir
A Natural Lover's Paradise
The state of Terengganu holds many 'natural' treasures that are perfect holiday destinations for people looking to revel in nature's majesty. Where else would you find unspoilt beaches, shimmering crystal clear waters with an abundance of marine life and a lake so large that it would lake you the whole day (and more) to traverse its length and breadth?


The east coast state is bound to make a nature lover out of even the most hardened of city folk. Imagine sitting on a boat in the middle of a peaceful lake with a fishing rod in the water, birdsong in the air and a stretch of the mighty rainforest in the distance. After you have caught your quota for the day, imagine heading back to a rustic chalet built over the water where, at the end of the day, you will sit and marvel at the sights before you while breathing in air so fresh and crisp that it leaves a glow on your cheeks. If this picture appeals to you, you should head for Lake Kenyir which is located in the interior of the state of Terengganu. The largest man-made lake in South East Asia, Lake Kenyir holds approximately 23.6 million cubic metres of water and covers an area of 38,000 hectares.

While it was formed (in 1985) for the generation of electricity to much of the nation, Lake Kenyir is more than just a 'useful' tool. It is a natural paradise as it contains over 340 islands, more than 14 waterfalls, numerous rapids and rivers, limestone caves, the lush tropical rainforest and majestic hills for as far as the eye can see.

First-time visitors to Kenyir will undoubtedly be in awe of the size of the body of water that makes up the lake. On arrival, you will stand on the jetty and look towards the water where you will see, in the distance, tiny 'islands' (actually highlands and hilltops which were not submerged by the water), some of which contain accommodation facilities for visitors. Lake Kenyir is also referred to as an angler's paradise because of the abundance of freshwater fish in contains. Among the species you will find here are the kelah, toman and baung. Many of the chalet operators on the lake cater to avid fishermen and organise excursions to known fishing spots. There are many stories on how great a 'catch' you can expect and while you may be sceptical about such stories, you cannot dispute the 'evidence' of a well-known photograph taken at one of the lake's waterfalls - in the picture you will see fish a-leaping as the rushing waters of the waterfall plunge downwards! Of course, it isn't only fishermen that will enjoy the pleasures of Lake Kenyir. The hills and forest that surround the lake are home to many species of animal and birdlife. In fact, Lake Kenyir also serves as another gateway to Malaysia's National Park which is home to an astonishing number of wildlife species. While at Lake Kenyir, avid bird lovers can don binoculars to watch the birds display their brilliant plummage. There are colourful hornbills and even eagles that circle the skies in search of its prey. Of course, one can often hear the different types of bird call and if you embark on one of the many nature walks/jungle treks available, you will see animals galore. Amidst such natural delights you will see an abundance of flowers, among them exotic wild species of orchids. Then of course, there are those magnificent trees in the area's virgin rainforest which are always awe-inspiring. As night falls on Lake Kenyir, you will also see the strangely haunting beauty of the dead tree barks that protrude from the water. They have been the subject of many a photograph and in some ways, they form a reminder of how fragile our natural ecology is - we must protect God's gifts to sustain life. One cannot help but wax lyrical about the beauty of Lake Kenyir. If you are inclined to simply sit and enjoy the sights before you, there is no better place than at Lake Kenyir. Take a picnic basket to one of the waterfalls and enjoy a dip in its cool depths. You can also take a walk in the woods and enjoy the beauty as it unfolds before you. Whatever your choice, you will leave Lake Kenyir with a deeper appreciation of nature's gifts.

For more information on Lake Kenyir,
contact the
Terengganu Tengah Development Authority (KETENGAH)
at tel : (09) 821101-105, 821131-136 or fax : (09) 821345
---
LOOK EAST,
LOOK TO TERENGGANU
THE INVESTOR- FRIENDLY STATE
---
Rich in resources, lower in investment costs, great in potential. That is Terengganu. Your cost effective option to high cost,labour-short locations elsewhere in Peninsular Malaysia. Terengganu gives you the competitive edge you are looking for.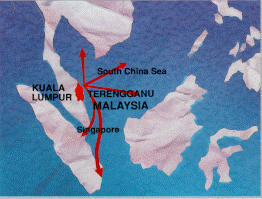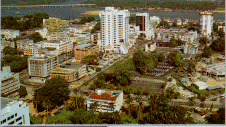 THIS IS TERENGGANU
Terengganu is situated on the north-east coast of Peninsular Malaysia and is 4 1/2 hours away by road and 45 minutes by air from the federal capital Kuala Lumpur.

Terengganu's economy was largely dependent on agriculture, fishing and wood based activities before oil and gas were discovered. Oil and gas has brought about rapid development in the state and Terengganu is now the largest producer of oil and gas in Malaysia.
Area
12,955 sq. km
Capital
Kuala Terengganu
Major towns
Dungun, Kerteh, Cukai
Land use
Agriculture (17%), Forest t52%), Others (31 %)
Major industries
Oil and gas, petrochemicals, timber, steel, electronics.
Per Capita Incomes
RM 7,573.80
Population (1991)
777,931
Workforce
280,000
Unemployment rate
8.4%
Language Gross Domestic
Bahasa Malaysia, English, Mandarin
Product
MR 5,916.4 million
(Major contributions: mining and quarrying)
---